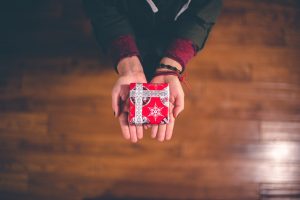 Gifting is hard. It's not just a matter of knowing what people like or how much they can afford; it's also about finding something that fits their style and personality—and that's not an easy task.
Some of the common problems of traditional way of gifting are:
●      Finding the perfect gift is impossible
Finding the perfect gift is an impossible task. In fact, it's so hard that many people have given up on finding gifts altogether and just buying whatever they think will make their loved ones happy. Finding the perfect gift is not only difficult but also time-consuming.
●      Gifting is time-consuming
When you're shopping for a gift, it can be hard to wrap your head around the amount of time and money that goes into gift-giving. You have to think about what will look good on the recipient, who they are, and what their interests are. It can take weeks or months of planning before you find something they'll love—and even then it might not work out because they don't like the color or size of the box!
And then there's how long it takes for delivery: if someone lives far away from your home, then delivery may take longer than expected. A lot of time goes into choosing, wrapping, and then sending.
It's a lot of work, and that's why modern gift options are so great. They're the perfect solution to all of these problems!
●      Buying a great gift without spending a fortune is a myth
It's not a myth that you can find great gifts at affordable prices. You just have to do your research and look for the best options out there. There are many ways to save money on gifts, including shopping online and saving up for them over time instead of buying them right away.
●      You don't know what to give.
It can be hard to find the perfect gift for someone who has everything. There are so many options, and it's easy to get lost in the sea of possibilities.
The best thing you can do is make sure you're aware of what they already have, so you know what they like and don't like; then look at your budget and determine how much money you want to spend on their gift. I
If your budget allows for it (and if this will help), try shopping around for last season's trends before making final decisions about which item(s) might work best with each other."
●      You're worried about your gift selection.
When gifting, it's important to remember that there are multiple ways of gifting. There are the obvious ones, like a gift card or cash, but there are also less conventional options: gift baskets filled with personalized items from your favorite store; pottery from your favorite artist; even tickets for an event you both enjoy. The best part about these gifts is that you get to choose what goes into them—and because each person will receive something tailored just for them, it makes the whole process feel more personal and special!
●      Your gifts are too expensive or too cheap.
When it comes to gift-giving, there are a lot of rules you can follow. But one rule stands out above all others: the gift should be thoughtful and meaningful. It should also be appropriate for the recipient.
If you're giving a gift that's too expensive or too cheap (or both), then your friend will probably feel bad about receiving it and won't like their new purchase either. And if they don't love it, then why did you give them something so embarrassing?
●      Your gifts go unused, forgotten, or tossed in a drawer.
If you're like most people and have trouble deciding what to get your friends, family, and co-workers—what should be a simple process can become a nightmare. You want to make sure that the gift is useful, appreciated, and appropriate for the recipient. But often times it feels like there are no good choices out there. You may even feel guilty if you don't select something perfect for someone else or if they don't like your choice of gift!
It doesn't have to be this way though! The solution is simple: just ask yourself these questions before buying anything so that when it comes time to give someone something special, everything will go smoothly:
-Will this person use this item? Will they appreciate receiving it? Does its purpose match their interests or hobbies? How much time will they spend with me afterward because of this purchase (ease of conversation)?
Gifting sites have emerged offering solutions to all of these problems, making your gifting easier and more fun.
Gifting sites have emerged offering solutions to all of these problems, making your gifting easier and more fun.
They offer a wide range of gifts from different stores and brands. You can find the perfect gift for any occasion, whether it's a birthday or Christmas!
They make it easy to shop for gifts online because they provide information about the products so you know what they're selling before buying them (or if you're looking for something specific). This allows users who don't have much money on hand but still want nice things in their lives without having to go through long lines at big-box retail stores would love this option!
Mojoly Way Of Gifting
What if there was one place, that could solve all the problems we mentioned above?
Mojoly was created with a simple thought in mind-why not gift your loved ones something they will love without them knowing your budget? Here's how we are changing the landscape of gifting. We're doing it, one gift link at a time.
The concept is simple- The person who wants to gift will send a gift link to receiver's email with a budget that only Mojoly and the sender knows. All the receiver will get is a link that has access to 2 million plus gifts (in the desired budget) for them to choose from. The receiver can choose indefinitely until they exhaust the budget. In case of a pending few dollars, the next item can be purchased after paying the additional amount.
Its a boon for people who want to give the perfect gift
You have a fixed budget, and you still want the person to love your gift? Sometimes, this may seem too far-fetched. But with mojoly, its possible. The budget stays hidden but the gift options are so many, that anyone will love what you've given them.
Access to so multiple items
With an instant access to multiple items varying in categories, the receiver is bound to find gifts they love. They can buy single or multiple items depending upon their link budget. Who says they have everything?
Share Love Without Fear
Gifting can take a toll on occasions where gifts express your emotions. In sch situations without burning a hole in your pocket, you can send emotions all the way. Surprise is still a surprise with them getting a chance to choose what they need the most
Boon For People Recieving Gifts
Even if you are at the receiving end of the process, you can put forward your emotions about the platform. The sender will also be relaxed as they dont have to go through the entire process of finding something suitable. And, you will be able to purchase items that you have always wanted!
The process for sending gift link is simple.
When you visit our site www.mojoly.com, you can see our homepage. All you need to Get Started, and the following pages will guide you.
On the next page, you need to fill basic details like your total budget, the occasion and email of the person you want to gift to.
As soon as you enter these details, the person will receive an email with all the details for them to choose the right gift.
In all this process, your budget will always be a secret. And the person will have access to choose something they will be truly thankful for!
As soon the person with gift link opens it, they can all the gift options.
Add to cart, get it delivered at home.
 Conclusion
While there are multiple issues surrounding gifting as a whole, few companies like ours are trying to solve the problems.So, if you're looking to give the perfect gift, we can help. We have hundreds of great gifts for every occasion and budget. Whether you're shopping for a loved one or yourself, we have something that will be perfect!